Welcome to the latest news from KidsNewShoes.com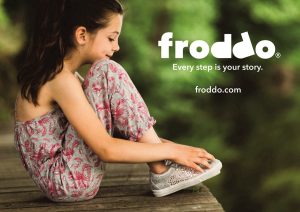 Next month sees the launch of the exciting new FRODDO SS19 children's shoe collection. The new range features some lovely new styles and design details in rich and vibrant colours all made from premium quality, soft leather and natural, environmentally friendly materials. Froddo focus on the healthy growth and development of young feet and work closely with footwear specialists to create stylish and comfortable shoes, perfect for healthy development.
For further details about the collection please see our Froddo Children's Shoes SS19 Press Release.
Our forthcoming show dates are:
Birmingham Moda, 5-7 August, Birmingham NEC Hall 17 Stand H49
www.moda-uk.co.uk/
Glasgow, 21-23 August, Bizspace, The Pentagon Centre 36 Washington Street G3 8AZ
Aberdeen, 28 August, Jurys Inn Argyll Rd Dyce AB21 0AF
Gatwick Show, 9-10 September, Holiday Inn Povey Cross Road RH6 0BA
Elstree London, 11 September, Holiday Inn Barnet Bypass WD6 5PU
Bristol, 18 September, Holiday Inn City Centre Bond Street BS1 3LE
We hope to see you soon.
Katharine & Pauly
Sales & Marketing