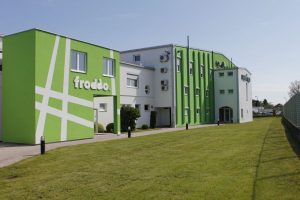 Froddo shoes are produced by a manufacturing company called Ivančica, based in Ivanec in Croatia, located in the north eastern corner close to the border with Slovenia and surrounded by lakes & mountains. In May this year we were excited to visit the Froddo factory to meet the sales team and the production staff.
Ivančica has been producing shoes since 1946 and now employs over 1,000 people.
We work very closely with the sales team headed up by the Sales Director Sinisa Zver, so it was great to meet the friendly team of Ivana, Marija, Stefica and Pero. There is a fun atmosphere in the office, and they work very well together.
The company, Ivančica is owned by a small number of shareholders and has a strong sense of responsibility, working to support the local community and focussing on protecting the environment. They source all their materials from trusted EU suppliers and use recycled materials for packaging. They use only water based adhesives and no harmful substances and compounds such as Chromium (VI) in production. Chromium (VI) is used in the tanning process and the Froddo factory does not use leather containing this compound in order to protect their eco-friendly environment.
First off, we visit the design office where the team, led by Ariana, develop the new collections. As it is so important to create healthy shoes, they work together with a professional team including paediatricians, orthopaedic consultants and child psychologists. They use trend forecasting data, visit trade and leather shows to keep up with new innovations and will create 450 different styles each season. Hand drawn sketches are uploaded onto a computer for development. Individual samples are then created and used for testing, analysis and feedback. Once the samples are approved sets will be produced for the sales force to showcase to customers. Forward orders are taken and production schedules worked out using the SAP ERP system to fulfil delivery dates. Some styles will also be produced for stock, which is then available to stockists via the B2B webshop. Once the SS18 collection is complete, work will start immediately on the AW18 collection.
We at Kids New Shoes, are involved in the design process for the new Back To School 2018 collection launching at the end of 2017. This is specifically designed and made for the UK and Irish markets which has had significant growth since we launched Froddo BTS three years ago.
We visit the cutting room to see the hi-tech leather cutting machines and then we enter the factory floor, a real hive of activity with row upon row of skilled workers in green overalls. Each item of footwear goes through four production stages and can have up to as many as sixty fashioned parts. To manufacture each shoe requires 40 – 50 separate hand worked processes and the factory has the capacity to produce up to 5,000 pairs per day.
The first work stations we come to are all occupied by fast working seamstresses seated at sewing machines. The level of craftsmanship and attention to detail throughout the factory is very impressive. Steady hands are required to paint on the glue ready for outsoles to be attached. Ultraviolet light is used to check the glue coverage. At various points the shoes are put under pressure, heated then quickly cooled in order to mould and fix shapes and to attach the outsoles. Trims are added, shoes are polished, re-polished to create different finishes, laces are threaded and everything constantly checked for quality.
When we visit there are 50,000 pairs of AW17 orders ready and waiting to be shipped.  Growth has far exceeded forecasts again this year. Froddo has acquired additional warehouse space nearby and plans to build a new 2,500m2 distribution centre close to the factory with a storage capacity of 300 – 400,000 pairs.
Ivančica has 30 Froddo retail shops in Croatia and an extensive online presence with Business to Business (B2B) and Business to Consumer (B2C) websites servicing both shop owners and consumers.
After the visit we reflect on the trip overall and feel that we now better appreciate how hard the Froddo team work to care for the environment and their local community, whilst continually innovating and adapting their product in a highly competitive market. They succeed in creating high quality, stylish and above all healthy footwear in beautifully soft leather and rich, vibrant colours.
Well done Froddo.