Having previously been recognised in the Footwear Industry Awards Froddo decided to become an official sponsor in 2017. This is an annual event and in February the awards took place in the Motor Cycle Museum in Birmingham. The questions and answers below appeared in Footwear Today Magazine in February 2017. We have now signed up again to support the awards in 2018.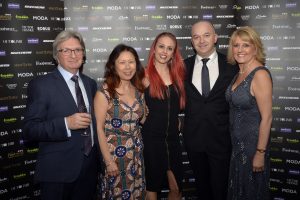 Please tell me about Froddo – bio, origins, point of difference, what you offer retailers etc
This year Froddo's manufacturer, Ivancica d.d. is celebrating their 70th anniversary in the business of shoe making and they continue to offer fashionable and comfortable children's shoes made from premium quality leather. The Froddo factories are based in Croatia and have always placed great importance on care for the local community and the environment. All materials are Chrome VI free (no harmful chemicals) and sourced from within the EU.
Froddo works closely with specialist podiatrists to create comfortable footwear with good support for young feet so that healthy development is possible.
This year has seen the successful launch of a 100% chrome-free leather Prewalker range. Available in sizes 17–24, these premium quality prewalkers are made from beautifully soft leather with vibrant colours and a choice of linings; leather, wool and ultra soft sheepskin.
Froddo has continued to develop their popular Soft Sole range extending the sizes to 19–30. These feature a removable dual insole providing two fittings and flexibility for children. These insoles are antibacterial, breathable, anatomically shaped and mould to the form of a child's foot.
Froddo's Back To School collection offers the same high quality characteristics as their fashion range. Hard wearing, all leather lined with arch support, comfortable ankle cushioning and competitively priced.
Froddo has successfully introduced a business 2 business (B2B) online service for retailers allowing them to have direct access to Froddo stock. Retailers can advertise their own websites on the Froddo.com site, which helps increase customers & sales.
Froddo are working hard to provide the best children's shoes and customer service possible to retailers and to support them wherever they can.
Why are you sponsoring the Footwear Industry Awards?
We have recently attended the awards and have been finalists for Children Footwear Brand of the year in the past. We decided that we would like to play a more prominent role and this coincided with Froddo's factory, Ivancica d.d. celebrating their 70th anniversary.
We would like to take this opportunity to reach out to our customers and to share our success with them in recognition for their great work in promoting the Froddo brand.
Plus we like chocolate and were tempted by the idea of sponsoring something we could also eat !
Why should brands and retailers support the industry by entering the awards?
This is a hard working industry facing many challenges and we should celebrate hard won success and achievement. Brands are striving to be the best they can and retailers are also having to innovate and adapt to constantly changing markets.
We must listen more to independent retailers and help promote them as they are driving continuous improvements and deliver a high standard of customer services.
As they say, you have to be in it to win it, so why not give it a try. Plus it is a fun, relaxing evening after a long day at Moda.